THE ADHD TEAM
Dr Derick De Beer
 Some say he is a handful, some say he is unmanageable, all we know is,he is the st…(no hang on that's someone else😜)
Our oldest member of the team was given the leadership position, simply because he did not excel at anything in particular!
Indecisiveness and procrastination has left him till now without transport, but rumour has it that the mythical unicorn will give him a lift along the way!
His idea of packing involves a stop at the corner cafe, for fresh supply of Marlboros and another at "Woolies" for a 3pack of underpants!
Forward planning and conventional wisdom ignites his ADHD and no amount of Ritalin can cure!
Fortunately a spouse aptly named HTFU understands him and can get him to concentrate long enough to accomplish the task at hand!
 Dr Yolande Mathee (De Beer)
A mother of two teenagers and a delinquent husband, need we say more?
HTFU, her nickname and aptly so! A professional doctor by day and a superstar at night!
Never scared of the hair-brained ideas the clan might conjure, silently accepting the challenge and finishing it with flair!
A comfort creature when allowed, but will gladly rough it with the toughest of them all!
IF IT RUNS ON PETROL, I WILL ALWAYS BE INTERESTED!
I have been involved with Round Table for 10 years now and served at all levels, as far as Association President in 2014 and have really enjoyed it and loved every minute. I am now a proud member of the Sheppie 41ers.
I have a passion for cars and bikes and am a partner in my own workshop called Performance Leisure. I am married (20+years) and have a daughter called Addison who shares my love for adventure. My wife Robyn, has stood steadfast at my side, and has endured all of my hairbrained ideas, but I may have pushed my luck too far with this project! LOL.
I have explained why earlier, but Burn survivors are close to my heart and I hope that this event generates the necessary funding to assist Annerie and the Hero Burn Foundation, achieve their goals.
Thanks for taking the time to read this.
I'M DOING THIS BECAUSE MY HUSBAND MADE ME …
I am a trained Paralegal secretary who enjoys an adventure and will try most things at least once. (except Jaegermeister, that I will try again and again and again and again…..) I dedicate a large amount of time to raising my daughter and of course my husband Leon.
My passion is horses and horse-riding and love spending time out riding or merely being at the yard.
I have been very involved with Round Table, through my husbands endeavours and have loved every minute of it. As one of the founders of "Hard way Up" and the only other person on BurnRun that has completed all 5 Hard ways, I will be representing team Hard Way Up on this run.
It is my hope and wish that we raise sufficient funds to allow HeroBurn to reach its mandate.
THIS COUPLE never miss an adventure
JOHNNY GROVÉ
Johnny Grovè, Digitizer and embroider by trade, is a born petrol head who will jump at the chance to drive and play with anything on wheels, the bigger, crazier and more outrageous the better. Johnny is lots of fun and always enjoys a good joke or prank, but can put his serious face on when needed. Johnny & Annemarie are both proud and avid tablers from Sheppie 83.
ANNEMARIE GROVÉ
Annemarie Grovè is the foundation behind the crazy petrol head husband and always stands by his side through every crazy idea or adventure and is always ready with bandages to patch Johnny back together. She is a very soft person with a big heart, but will not stand back for any challenge thrown in her direction. She is always ready and willing to help anything or anyone.
THIS COUPLE KNOWS HOW TO WORK HARD – AND PLAY HARDER!
RIAAN'S BIO
Hard work is nothing new to Riaan Kruger as he is always willing to give more than 100 percent to anything he puts his mind to.
Currently employed as a F &I at Half Way Toyota, he is still applying himself to accomplishing his dream of studying computer programming. Not only is he a good man, husband and friend he is also a wonderful father to his two wonderful children aged 1 and 11.
He has a great passion and love for the outdoors, spending as much time as he can at the beach surfing. This he would do every day if he could.
He has the most positive outlook in life and never finds fault with any one he knows or meets.
Riaan has accomplished a lot of things in his life and he has also been a proud part of round table port Shepstone since 2011. He is now a 41'er and is enjoying it immensely.
JENNEY'S BIO
Commitment to her family an ordered house hold ranks very high with her.
Mother of two beautiful boys who mean the world to her and married to the love of her life who she only met at a late stage in her life.
Currently employed as an admin Clerk at the SAPS Local Criminal Record Centre. She has a dream of becoming a child Psychologist and is busy studying part time to make this dream a reality. A loving mother that always puts her family first, and cares for her children dearly.
She has a charitable heart and gives of her time and energy every chance she gets to help those in need (whether it's a human or an animal)
Having a positive outlook in life like her husband the two of them make the world a better place.
Her children and studies take up a lot of her free time, but she still manages to take on projects and crafts. She keeps a well-organized household and is always up for an adventure which keeps life interesting.
If she makes you her friend, you know you are one for life. She is loyal and caring and will do almost anything for her friends.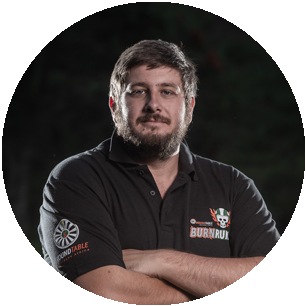 I AM AN ILS PARAMEDIC FOR MED-EVAC
TABLE CAREER:
Inducted as a member of Port Shepstone Round Table in 2014.
2015: Public Relations Officer
2016: Vice Chairman of Port Shepstone Round Table
2017: Chairman of Port Shepstone Round Table
2017: Natal South Coast Area Public Relations Officer and International Relations Officer
2018: Treasurer of Port Shepstone Round Table
2018: Natal South Coast Area Public Relations Officer and International Relations Officer
WHY AM I DOING BURN RUN?
I have attended and treated many burn cases in the past 9 years and I've come to the realization that the people of South Africa lack the Awareness of burn victims. When you join an organization such as Round Table, you realize how fortunate you are as an individual and what you can do for society. And, if that means we can create awareness to our fellow South Africans about burns I am 100% on board. Remember prevention is better than cure!
OWNER AT SCT GROUP
Jaco Steyn (Daniel Jacobus) (born April 19, 1977 -) is the owner at SCT in Southport.
Jaco was born in Vanderbijlpark. His father Danie, also called Daniel Jacobus Steyn, was employed at Iscor (Mital Steel), an Iron and Steel manufacturer in Vanderbijlpark. His mother, Gerda Steyn (Jooste), was from a small town, Charles Town. They are still married today. They moved to Port Shepstone in 1999 to run a business, Status Panelbeaters.
After school Jaco studied Mechanical Engineering at RAU in JHB. At the end of his second year he had to drop out and study BSc Computer Science through correspondence because of limited funds. He still hasn't completed his degree, but hopes to do so in the future.
Jaco started working as a lecturer in IT subjects at a college, but a year later became a computer technician at a local computer shop. This was the start of his IT career. He moved on to a bigger IT firm in Vereeniging where he worked for a few years completing his MCSE Certification. In 2001 he moved to Port Shepstone to work as the accountant at Status Panelbeaters, his father's company.
Jaco stayed and worked with his parents for a while until starting his own business in IT. He later bought a vehicle fleet management franchise called Digit South Coast as a value add.
In 2005, Jaco got married only to be divorced again soon after. Cegen was born from his first marriage.
He found his match a year later and got married to Robyn Steyn (Englund). They have 3 children together, Tristen, Tiffany and Liam.
Jaco joined Round Table in 2010 and put his hand up for positions in the Area Council and later the National Council. In his spare time, Jaco likes to spend time with his family. He also likes to ride dirt bike on weekends to take his mind off work.
HAPPIEST IN HER VEGETABLE GARDEN WHERE HER OCD CAN FLOURISH!
Jen hails from the town of Underberg in the Southern Drakensberg, KZN.  Jen is married to Alex "PITBULL" Mc Arthur who is Round Table Southern Africa's Associations International Relations Officer.  They have 3 children, Amy, Paige & Ian.
A qualified chef who went beef farming for 20 years and is now back in the hospitality industry with Alex running their own establishment, Nguni Moon Tepee Camp.   Jen has been very involved with Round Table over the years standing alongside Alex in his Table journey and was also part of the inaugural "Hard Way Up".
LET THE ADVENTURE BEGIN – THERE WILL BE LOTS OF LAUGHS!
Lourens Kruger, the dyslexic draftsman who plays rugby for fun and is a member of Round Table. His amazing girlfriend Nicolette Vetner is fun, bubbly, crazy about cartoons and maybe just a little crazy all round but making people laugh is her mission. Let the adventure begin. "What we doing tonight Nicci, the same thing we do every night Friends, try to take over the world"
TOM "THE STEAMTRAIN" AND CHARLENE "MRS STEAMTRAIN" PEARSON
Inducted into table in Pietermaritzburg in 2000 they joined Port Shepstone in 2002 and were axed in 2011 after a full and rewarding career, serving Round Table Southern Africa at all its levels, locally, on an Area level and Nationally.
Now over the age of 40, getting closer to the 50 mark, Tom and Charlene are joining the tour as part of the support crew, albeit in the comfortable cabin of a motorized vehicle with four wheels..! Having noticed that even though you don't realise it, fundamental changes take place in your brain and body, whether you like it or not and after the age of 40, your body stops obeying the natural rules and the laws that prevailed up and until that point. The hardest part of this transformation is that the mind still writes out cheques that the body can't cash anymore. The mind makes plans and the body just laughs, and then cries out in pain for days..!
Due to the latter, Tom and Charlene will taking a less physical approach to this event and will be looking after the Logistical aspects and keeping the riders well hydrated and on track. Together with the other support crew, they will be on route with the riders every step of the way as mental and physical backup.
BurnRun, in conjunction with Sheppie Round Table 83, saw participants, supported by a backup team, travel to Langebaan in the Western Cape to attend the Round Table Association Annual General Meeting.
The route was along dirt roads (where possible), enduring a 7 day trip to get there.
Total distance was 1802kms, and this took
37 hours.
The participants only used dirt bikes, unconventional vehicles and in many instances, unconventional roads.