It's all or nothing! This couple knows how to work hard – and play harder!
riaan and jenney kruger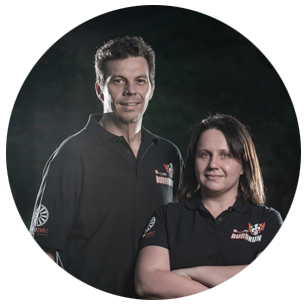 Hard work is nothing new to Riaan Kruger as he is always willing to give more than 100 percent to anything he puts his mind to.
Currently employed as a F &I at Half Way Toyota, he is still applying himself to accomplishing his dream of studying computer programming.   Not only is he a good man, husband and friend he is also a wonderful father to his two wonderful children aged 1 and 11.
He has a great passion and love for the outdoors, spending as much time as he can at the beach surfing.  This he would do every day if he could.
He has the most positive outlook in life and never finds fault with any one he knows or meets.
Riaan has accomplished a lot of things in his life and he has also been a proud part of round table port Shepstone since 2011.  He is now a 41'er and is enjoying it immensely.
Commitment to her family an ordered house hold ranks very high with her.
Mother of two beautiful boys who mean the world to her and married to the love of her life who she only met at a late stage in her life.
Currently employed as an admin Clerk at the SAPS Local Criminal Record Centre. She has a dream of becoming a child Psychologist and is busy studying part time to make this dream a reality. A loving mother that always puts her family first, and cares for her children dearly.
She has a charitable heart and gives of her time and energy every chance she gets to help those in need (whether it's a human or an animal)
Having a positive outlook in life like her husband the two of them make the world a better place.
Her children and studies take up a lot of her free time, but she still manages to take on projects and crafts. She keeps a well-organized household and is always up for an adventure which keeps life interesting.
If she makes you her friend, you know you are one for life.  She is loyal and caring and will do almost anything for her friends.
[custom-facebook-feed filter="#riaan, #jenney"]